About This File
Grow vegetables and fruits without a farm! How to do it?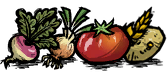 Create a hoe;
Till the ground;
Fertilize the soil;
Plant a seed!
It is possible to grow vanilla plants too!
Cook new vegetables in a crockpot. New recipes:


Bread (4 wheat);
Fruit muffin (fruit, egg, wheat, honey)
Tomato soup (2 tomato, veggies, no meat);
Onion soup (2 onion, veggies, no meat);
Meat soup (2 garlic, 1 additional veggie, 1 meat);
Fish soup (2 potato, 2 fish);
Pumpkin soup (pumpkin, 1 honey, wheat, no meat)
Fruit pie (2 wheat, fruits, no meat)
Vegetable pie (2 wheat, veggies, no meat)
Meat pie (2 wheat, meat)
Fish pie (2 wheat, fish)
Sweet turnip (2 turnip, 2 honey, no meat)
How to get new seeds?



It's pretty simple — new vegetables can be grown from usual seeds. Also you can get specific seeds using a birdcage.
Don't like the new farming system? Disable the hoe recipe and grow new vegs on usual farms.
---